Time Ownership Program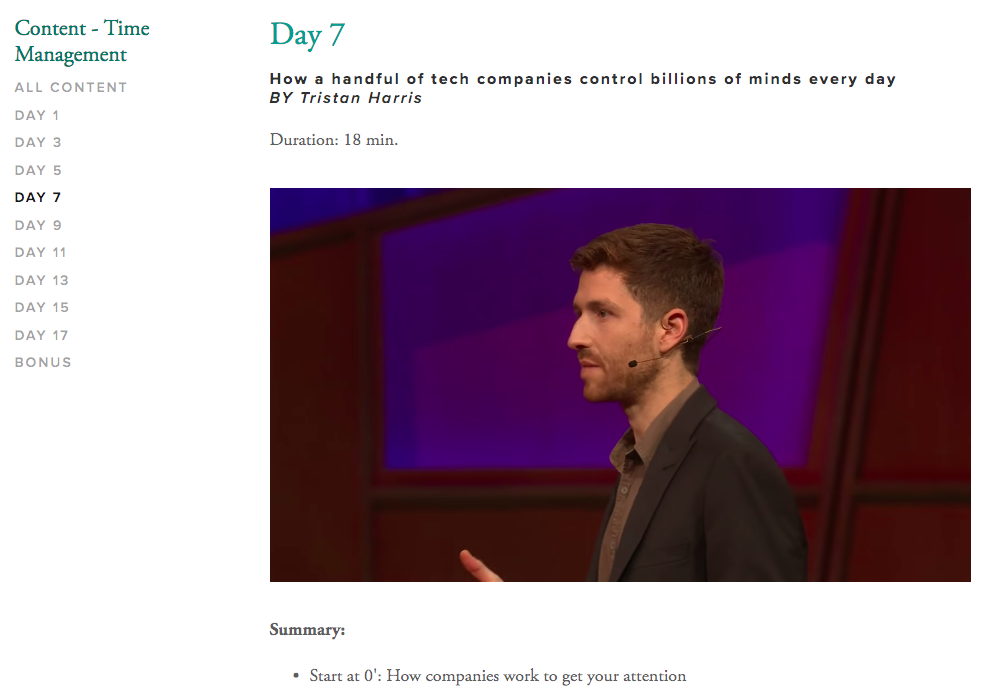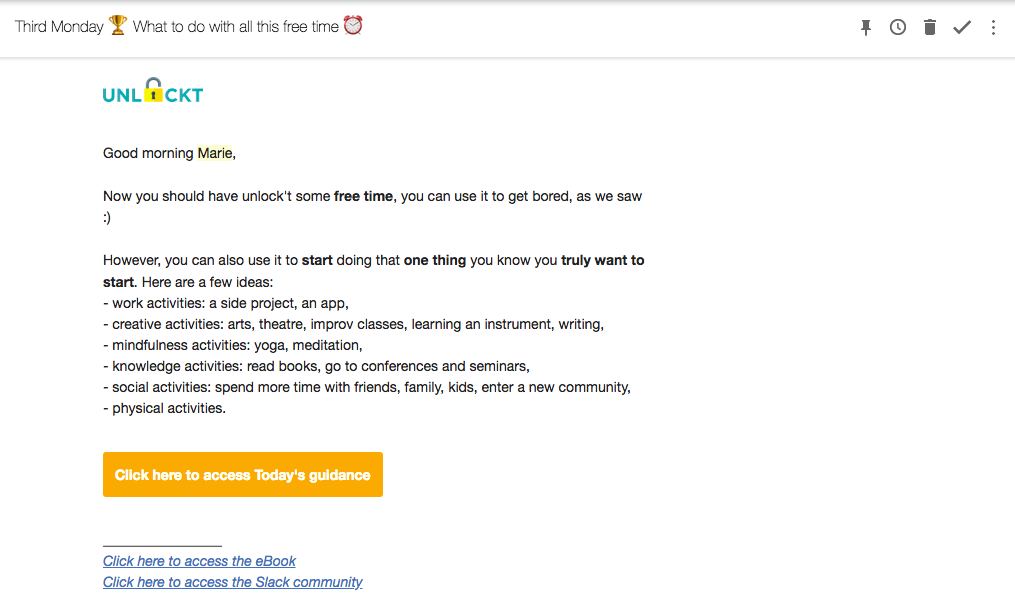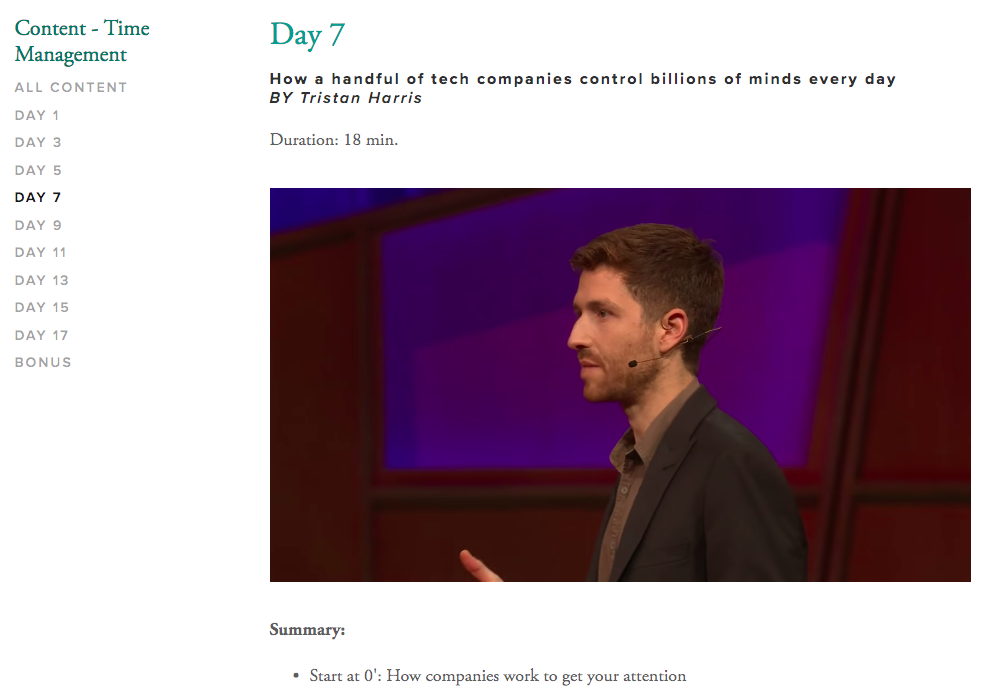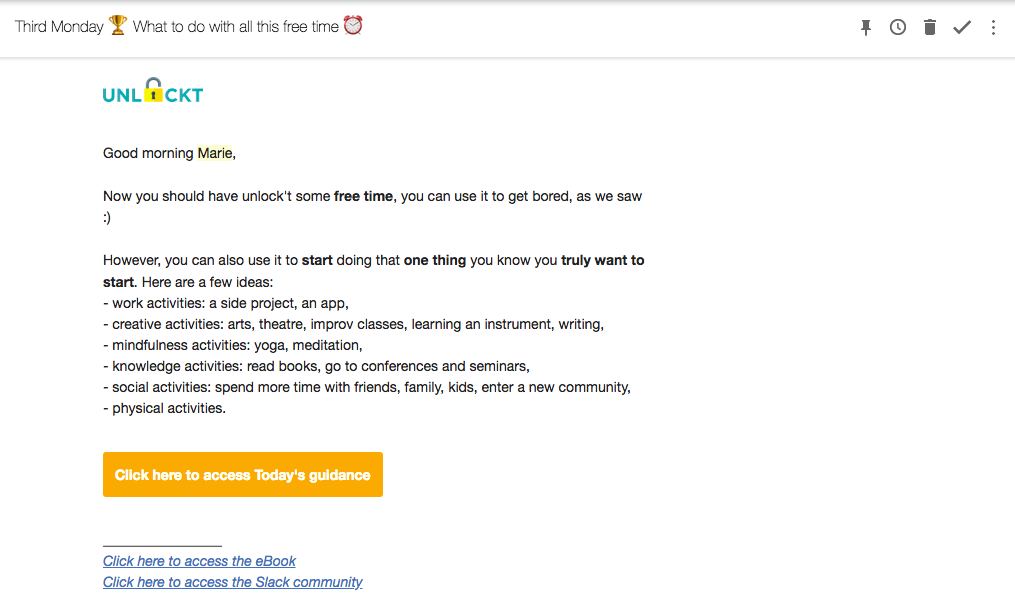 Time Ownership Program
✔︎ 18 days
✔︎ 20 min a day
✔︎ 30-day money-back guarantee
✔︎ Lifetime access
Owning your time is the foundation of any major improvements in your life.
This is our best seller and definitely the one to get started with.
More details on the program
👇 Watch our 4-minute presentation video 👇
What's included?
Daily emails: Every morning, you get an email waiting for you in your inbox with the theme of the day. It helps you keep the pace. It alternates between content days and guidance days.

Curated content: Every other day, you receive a piece of mind-blowing content. Either a TED talk, a video or a podcast. Always less than 30 min.

Activities and checklists: You get activities to do and interactive checklists to make sure you are on track.

Facebook group: Connect with like-minded people in our exclusive community.

eBook and follow-up call: At the end of the program, you get an eBook that you can keep forever and a call with Alex to make sure you got the most out of the program.
👇 Watch now the piece of content from Day 1 👇
Some of the people you will listen to:
Tim Ferriss: Tim Ferriss is the writer of the 4-hour workweek and host of one of the best rated podcasts, the Tim Ferriss show

Tony Robbins: Tony Robbins is probably the most famous coach in the world. He advised people like Bill Clinton, Serena Williams and Mother Teresa. His seminars gather thousands of people.

Manoush Zomorodi: TED speaker, she is the founder of a media company with a mission to help people navigate personal and global change.

Arianna Huffington: Founder of the Huffington Post, she is now founder of Thrive Global, a media promoting well-being.

Ashton Kutcher: Famous actor, he is also a renown tech investor and venture capitalist.

Paul Minors: Host of the productivity podcast

Cal Newport: Author of the best-selling book Deep Work
Why the program works?
✔︎ Strengthen your beliefs: The content combines advice from successful people in different areas of expertise and the most renown scientists. You will learn amazing tips. You will also hear things you already know, but the repetition from such authorities will strengthen the belief, which helps to act accordingly.
✔︎ Commit and get the ball rolling: The hardest part is to get the ball rolling. As you commit Today, you initiate action. You take the first step which makes all the next ones easier. Every day we guide you to take another step. And the very fact that you invest some money into this program makes you more committed.
✔︎ Act consistently. Create a habit: What matters is what you do consistently. During the 18 days, you get daily emails and keep going every day, creating new habits.
✔︎ Keep yourself accountable: The financial investment already creates some accountability. On top of it, we make sure you do the exercises and you follow the program. We also have a call together at the end to increase accountability. If you engage on the Facebook group, it will create even more accountability.
Frequently Asked Questions
What do I pay for?
As you register to the program, you pay for the hundreds of hours of curation of the best content and activities. On top of it, we keep you accountable and we make sure you take action.
Who is it for?
This program is primarily designed for time-poor professionals with a high level of education, who like to consistently challenge themselves. Many of our members are entrepreneurs, executives, consultants, engineers,...
What happens at the end of the program?
At the end of the program, we offer a one-on-one 30-min call with Alex to make sure you got the most out of the program. We then define what are the best next steps for you in order to create long lasting improvements.
Do you offer other programs?
Yes, we do offer more programs. However, the time ownership program is the very foundation of all the other improvements. Thus, you need to complete the time ownership program before you can start the other programs, like meditation, nutrition, happiness, etc...
Why would I trust you?
When selling online programs, there is the temptation to create long hours of video of someone speaking to justify the price. We don't try to get you to watch our content, we share content from the top experts and scientists in the world. You can trust us because we use trusted sources (world-class podcast, TED talks), not pseudo-experts.
Can I get it from anywhere in the world?
Yes! The program is in English only but you can follow it online from anywhere.
UNLOCKT is a personal growth and lifestyle brand that promotes learning, experimenting and getting out of your comfort zone.
We create programs that curate the best content and activities, from meditation to nutrition, from workout routines to the best books, so you become more performant, happier and healthier. We also create a community of like-minded people.
On top of the programs, UNLOCKT organises:
regular events in Paris, Bali and Sydney,

an online community that shares content, organises masterminds and reads book together,

live interviews and a podcast
We are human-sized project with great reviews on both Google and Facebook.
About Alex, the founder
I graduated from HEC Paris, #1 business school in Europe. After a year in finance, I moved to Australia to grow startups in the Foodtech industry (HelloFresh, THR1VE).

At 21, I read the 4-hour workweek by Tim Ferriss. Since then, I became obsessed with increasing efficiency and learning new skills, not only for work, but to optimise every aspect of my life.
I listen to podcasts every day and read 3-4 books a month. I practice Vedic meditation for one hour a day. I have been going to Tony Robbins 6-day seminar and did a lot of online courses to keep learning.
I am incredibly grateful to the people who do these podcasts, TED talks and books, as it allowed me to learn so much. With UNLOCKT, I wanted to share this amazing growth potential with other people.

If you start the program now, I deeply believe that in a few weeks, months and even years, you will look back at Today's decision as one the best one you've ever made.
If we haven't convinced you, maybe Jocko Willink will…
And if he doesn't either, you can always leave your contact details and we'll be in touch.